Blue Devils ready to hit road
Duke goes into first game comfortable in style of play giving it an advantage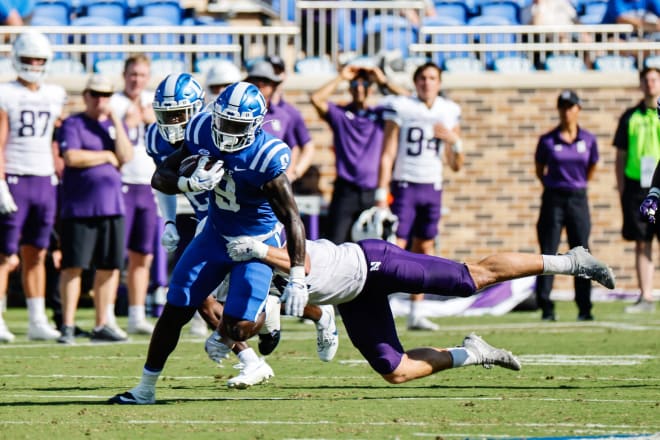 DURHAM – For the first time of the season, we'll get a look at how well Duke's brand of football travels, given the Blue Devils' first road game comes this weekend at Connecticut.
All indications are that No. 18 Duke plays a transferable style.
"We can make football about whatever we want," coach Mike Elko said on Monday, "but at the end of the day it's about imposing your will on the team you're playing."
Duke is 3-for-3 in doing that this season, having run through Clemson, Lafayette and Northwestern all by at least three touchdowns.
Through establishing this identity of a physically dominant team, Duke has built itself into an intimidating team. That type of team is the one that isn't likely to be thrown out of rhythm by a raucous road environment, though the first test of that theory when it comes to this team comes Saturday afternoon.
"If you look around the country and you say, 'Who wins championships?' You want a consistent recipe, you want to be able to run the ball consistently and pound people," Elko said, "control the line of scrimmage and play great defense, right?"
Correct. (there's more)
"We're fortunate because I think we can be diverse on offense. I think when we have to throw it, we can," Elko said. "We run a pro-style system. We have the ability to do all of those things, but at the end of the day if can line up and control the line of scrimmage, run the football and pound the football and play great defense, that recipe has stood the test of time in the game of football for a really long time."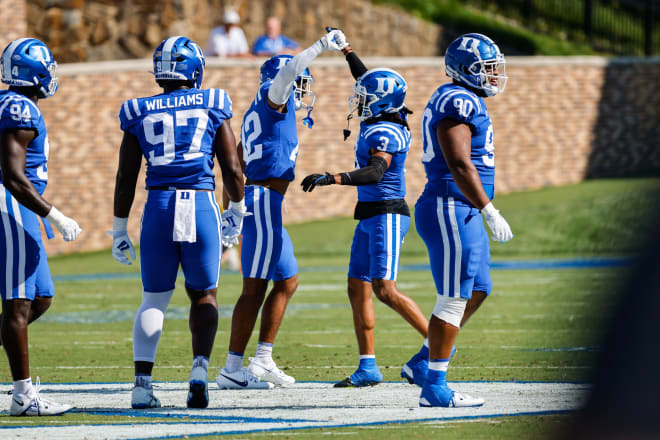 While the Blue Devils were strong on the ground last season, they've taken it to another level in the early sample size of this year.
Duke is sixth in the country in rushing offense, averaging 242.7 yards per game. Last year's average was 184.2 yards, good enough for 39th in the country and third in the ACC.
Louisville is ahead of Duke with 251.7 rushing yards per game this season, though Duke has 12 rushing touchdowns and the Cardinals have nine.
"I thought we ran the ball well last year, too," Elko said. "But I think maybe a little bit more efficient this year and we've been able to finish runs explosively a little bit more. I think there's probably a little bit of extra juice in Jordan (Waters) and Jaquez (Moore) right now."
Along with quarterback Riley Leonard, Duke has three of the top 13 rushers in the ACC. Waters is fifth at 80 yards per game, Leonard is ninth (69.3) and Moore is 13th (58.7). All three are averaging more than 6 yards per carry (Leonard leads at 8.3).
Three of Duke's four losses last season came on the road — at Kansas, Georgia Tech and Pittsburgh.
The first two of those were in what Elko calls the middle portion of the season — a time when Elko is looking for more consistency compared to a year ago.
"Our challenge, and this is what we laid out back in January, is this is what we call the middle," Elko said. "Game Four to Game Eight is the middle part of your season and last year, we didn't handle that part of the season really well.
"There are some parallels to some of the areas where we didn't get it done last year that I think we have an opportunity to show some growth here this week."