Wendell Moore chooses Duke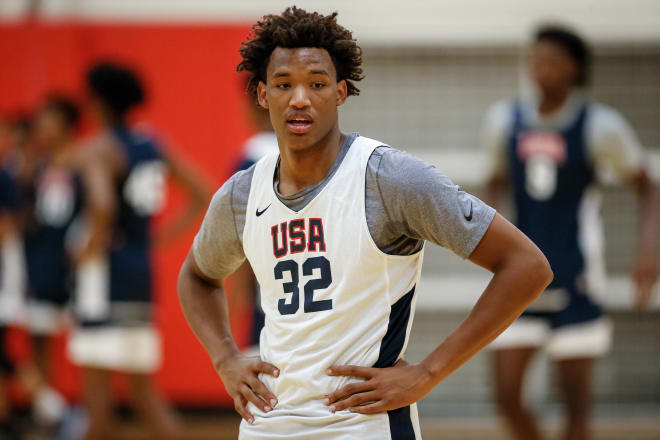 Duke picked up its first commitment in the class of 2019 on Monday evening when Wendell Moore, the top player in North Carolina, offered his pledge to the Blue Devils during a press conference at his school in Concord.
The 6-foot-5, 215-pound senior's decision comes on the heels of yet another strong showing at the USA Basketball Junior National Minicamp in Colorado Springs. Though his announcement came following the event, he entered the weekend with a sense of calm, as his decision was essentially sealed.
And according to Moore, his choice comes not only as a result of Duke's style of play, but also the community built within the program.
"Just the brotherhood they have going there," Moore told Devils Illustrated when asked why Duke was his choice. "It's a big family thing for them. Family is big for me, too. When I leave college, whether it's after one, two, three or four years, I just want to be able to come back - somewhere I can call home."
That family connection is already being developed with the Duke program, and a big reason for that is the relationship he has with the young assistant coaches in Durham.
Jon Scheyer, Chris Carrawell and Nate James have all been in consistent contact with Moore, and that has played a major role in Moore's decision.
"I'm really cool with all of the coaches," he said. "Coach Scheyer texted me today. Coach Carrawell text me yesterday, I talk to Coach Nate a lot. I have a great relationship with all of the them. The good thing about them is they've been to where I want to go to. I think they will help me get to it."
Moore, a five-star small forward, who chose Duke over NC State, North Carolina and Wake Forest, has been heralded as one of the more versatile players in his class.
Terms such as winner, effort, unselfish, humility, team-first have all been used in describing the Cox Mill, N.C., senior.
Undoubtedly, those all reasons the Blue Devils' coaching staff covet Moore so much.
According to Moore, the style in which Duke plays the game couldn't be a better fit.
"Just their play style," he said in regard to why Duke is a good overall fit for him. "They kind of play free flowing, kinda like the NBA does. Four out and one in and they get out in transition a lot. I think it fits my play style."
Moore, who is rated as the No. 25 player in the nation, and the No. 3 prospect at his position, is a player that his peers would love to suit up with in the college ranks. He makes everyone around him better, and is willing to do whatever is asked of him to win games.
Now that he is on board with the Blue Devils, Moore is prepared to urge some of the nation's other elites to join him in Durham.