{{ timeAgo('2023-01-24 17:01:00 -0600') }}
football
Edit
Tyler Santucci named Duke's defensive coordinator
Blue Devils make Texas A&M co-defensive defensive replacement for Robb Smith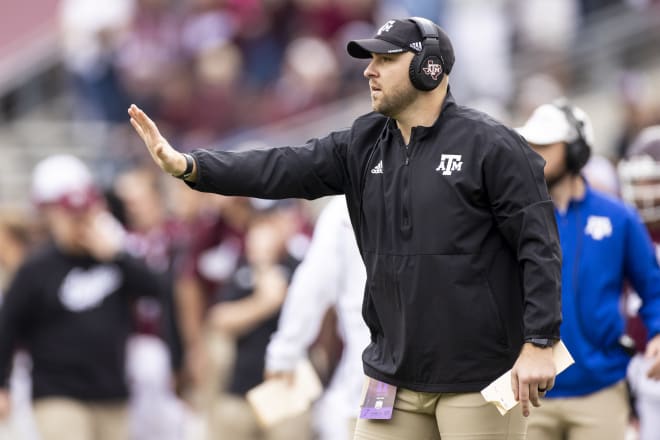 For a fifth time and at a fourth program, Mike Elko has hired Tyler Santucci.
Santucci was announced as Duke's new defensive coordinator and linebackers coach on Tuesday evening. He replaces Robb Smith, who left the program in the past week for personal reasons.
"My family and I are grateful for the opportunity to join this prestigious university and football program here at Duke," Santucci said through a news release. "I would like to thank Coach Elko and (athletics director) Nina King for believing in me to lead and coordinate the defense.
"Coach Elko and staff have done a remarkable job over this past year of laying the foundation for the future of the Duke football program. I am looking forward to building and sustaining meaningful relationships with our student-athletes as we help them chase their dreams."
Santucci, 34, has previously worked with Elko at Wake Forest (2014-15), Notre Dame (2017), and Texas A&M in two stints (2018 and 2020-21 with Elko).
After Elko took over Duke, Santucci was elevated to co-defensive coordinator for last season (in addition to coaching the Aggies' linebackers, which he's done for the last three seasons).
"I am excited to welcome Tyler, his wife Arielle, and their daughter Liana into our Duke football family," Elko said through a news release. "I've known Tyler for quite a while and I'm confident he'll be a great fit for us here in Durham. His work ethic, leadership, passion and understanding of the sport made him an easy choice for this opportunity.
"I am eager to see our defense reach new heights under his direction."
Santucci has also been on staff with a few other Duke defensive assistant coaches. He played at Stony Brook from 2006-10, and then coached there from 2011-14 — alongside Duke safeties coach Lyle Hemphill. When Santucci spent one season as Wake's linebackers coach, Hemphill was the defensive coordinator.
Duke defensive ends coach Harland Bower worked with Santucci at Notre Dame in 2017, and again at Texas A&M in 2021; cornerbacks coach Ishmael Aristide worked with Santucci on the same Texas A&M in 2020.
Texas A&M was 5-7 last season but the Aggies' defense wasn't the main issue. Texas A&M had the nation's No. 1 pass defense (156.2 yards per game) and was third in the SEC in scoring defense, allowing 21.2 points per game.