McRoberts headed to NBA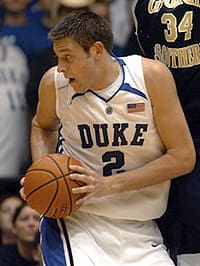 Duke sophomore forward
Josh McRoberts
has decided to enter the 2007 NBA Draft, Duke announced Thursday.
McRoberts is expected to hire an agent, which would end any opportunity to return for his junior season.
McRoberts closes his Duke career after two years in which he combined to average 10.8 points and 6.5 rebounds.
"I am extremely grateful for the opportunities that I have had here at Duke," said McRoberts in a statement released by Duke. "This was a difficult decision, but I feel it is the best one for me and my family at this point in time. I will miss Duke, the coaching staff and my teammates but it has always been goal of mine to play in the NBA."
The move to the professional ranks comes with coach
Mike Krzyzewski
's blessing.
"In the past couple of days, I've had the opportunity to meet with Josh and his mother," Krzyzewski said in a statement. "We had great conversations and we are 100 percent behind his decision. Josh has been a terrific player for us for the past two years and he will be even better in the future as a professional. Based on our information, it is time for him to move on to the next level and we are ready to help him in any and every way during this process."
McRoberts' athleticism, ball handling skills, and improving interior defense make him attractive to NBA scouts, and with more polish in his offensive skill set most analysts believe he will have a chance to be a very productive professional.
Currently, DraftExpress.com projects McRoberts to be chosen 18th in the first round by the Philadelphia 76ers. Other draft projections regard McRoberts similarly.
McRoberts entered Duke as the number one ranked prospect to play college basketball out of his class. He was ranked number two overall behind Gerald Green, who declared for the NBA Draft directly out of high school.
In two seasons in Durham, McRoberts helped Duke win an ACC regular season and tournament championship as a freshman and was part of 54 wins overall.
McRoberts was expected to be a high lottery pick last year had he declared for the draft after his freshman season, but he chose in April of 2006 to return to Duke for his sophomore campaign.
As a sophomore, McRoberts' role increased after the departure of Shelden Williams following the 2005-06 season. During the 06-07 season, McRoberts recorded seven double-doubles and had 17 games of four or more assists.
The NBA Draft will be held June 28th.