{{ timeAgo('2021-01-12 21:47:15 -0600') }}
basketball
Edit
Blue Devils drop first ACC game to Virginia Tech
Duke's road trip to Blacksburg on Tuesday ended in a 74-67 defeat at the hands of Virginia Tech, serving as the Blue Devils' first loss in ACC play.
The game, which undoubtedly will serve as a learning tool for the young Blue Devils going forward, gave the team a glimpse into what an ACC schedule of opponents ultimately looks like.
Up until Tuesday's battle, though, Duke did not have a strong understanding of any of that.
"They're really good. They know who they are," head coach Mike Krzyzewski said. "I think we learned a lot tonight in just how hard an ACC top level game is. You have to be there for 40 minutes. It's a learning experience. We really have not been in a game like that in the conference."
Krzyzewski noted after the game that his team was prepared for the game - at least in terms of the scout and Xs and Os - but it was the intensity level that caught them off guard.
Virginia Tech was the aggressor right from the opening tip, and the Hokies' energy on both ends of the floor set the tone for what most of the first half would look like. That ultimately was a near runaway first 20 minutes of action.
The Hokies led by as many as 18 points in the first half, dominating on both sides of the basketball. Offensively, Virginia Tech shot 63.3% percent from the floor and 57.1% from 3-point range. Tyrece Radford was a terror for the Blue Devils, scoring 14 first half points (18 for the game). So, too, was Jalen Cone, who gave Virginia Tech eight quick points off the bench.
"We gave them the opportunity to shoot a high percentage," Krzyzewski noted. "We didn't pressure them like we could. Then offensively they were able to get run-outs because of how weak we were offensively. When you get those run-outs your percentage goes up. And we didn't do a good job on Cone the first two times he touched the ball.
"We were an accomplice to their good offense."
Defensively, Virginia Tech was speeding Duke up and forcing them into quick shots, and a disconnected offense.
And to Krzyzewski's point, Duke was weak offensively. That resulted in nine first half turnovers, which the Hokies converted into 13 points.
Freshman guard Jeremy Roach, who scored 13 points in the first 20 minutes and was Duke's only consistent performer in the first half, attributed the slow start to a lack of energy.
"There was no energy," Roach said. "We were just playing lax. We were letting them come into us. We weren't being the aggressor. We were just doing everything wrong."
Luckily for Duke, and in almost a replay of its games with Boston College and Wake Forest, the team started to figure some things out in the final minutes of the first half.
After falling behind by 18 points, 36-18, with 7:06 to go in the first half, Duke began finding a rhythm behind Roach's play.
Over the final 6:51 of the half, Duke outscored Virginia Tech 16-7, and made the halftime score a more respectable 46-34, though there was much more work to be done.
The halftime message from Krzyzewski was simple.
"Get the energy up, we need energy," Roach said of Krzyzewski's message. "We need energy. We need stops. We need stops. That was the main message. It was real simple, we just needed stops."
Duke began putting immediate pressure on Virginia Tech right out of the break, and whittled away at the Hokies lead. And they did it rather quickly. Balance was suddenly the word of the day again, as Duke saw four different players score by the first media timeout at the 15 minute mark.
By that point, Duke had cut Virginia Tech's lead to just four, 51-47. The Blue Devils had six rebounds and two steals by that moment in the game, while making 5-of-9 shots. Duke continued its attack, cutting the Hokies' lead to just one point, 56-55, with 13:12 left in the game.
It appeared the message at halftime had sunk in. It was now Duke who was the aggressor.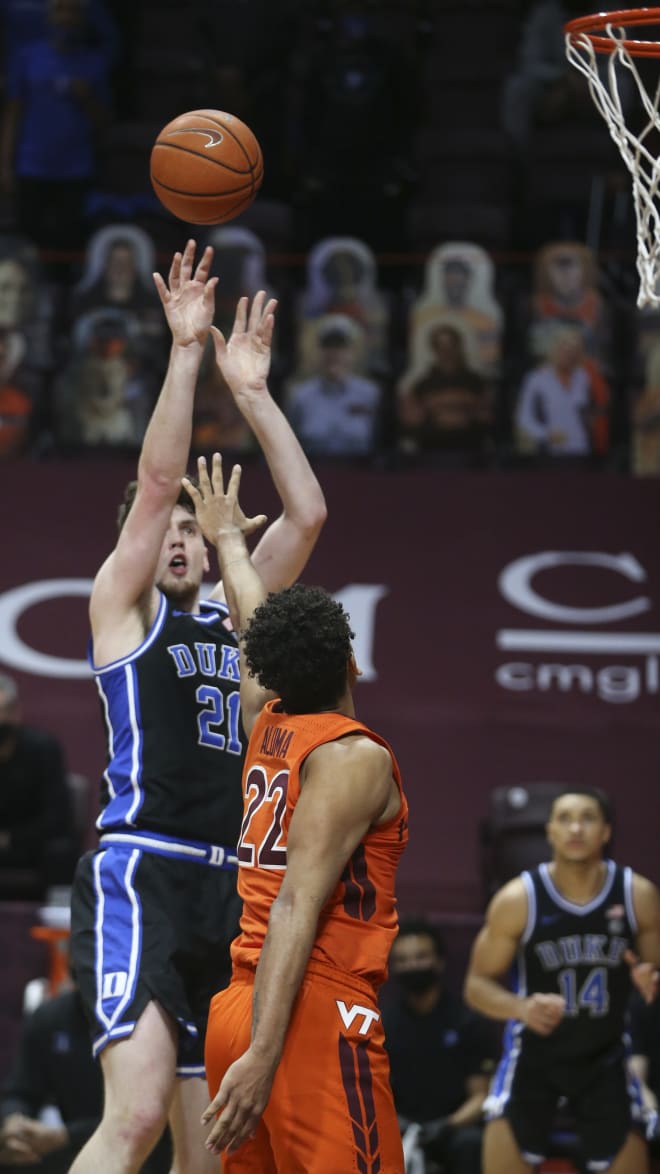 "In the first half they really hit us hard," Krzyzewski said. "They played great defense. Really strong, physical. They played tough and it knocked us back.
"At halftime, I thought we reacted great. I thought we played really well in the second half. And more than that we competed and played really outstanding defense."
Matthew Hurt had a flurry of points coming out of the first media timeout, scoring eight points over a minute and 20 seconds. It looked like Duke was about to put a load of game pressure on the Hokies.
Meanwhile, DJ Steward was picking up his play, and Roach was picking up where he left off in the first half. Duke was putting things together.
Then it all fell apart, thanks to missed opportunities - mainly a result of missed shots. Instead of taking the momentum they built over the first seven minutes of the second half, Duke stalled.
And they stalled while the Hokies weren't doing much better. There was an opportunity for Duke to take control of the game and it simply didn't happen.
Over the next 4:14, Duke went 0-of-7 from the field. Despite that fact, Virginia Tech was only able to extend its lead back to seven points. Steward stopped the bleeding momentarily when he hit a 2-point jumper to climb back within four points, 61-57, with 8:58 remaining.
Duke would make just three of its next 14 shots, which included a 3-pointer at the buzzer by Roach.
"We had opportunities," Krzyzewski said. "Our guys came back and put us in a position to win and we could not knockdown a shot. We had some good looks, where we could put one possession game pressure on them. And we missed a lot. They were good looks. I don't fault my guys. They were really good looks."
Roach ended the game with a career-high 22 points, including an 8-of-8 performance from the free throw line. Matthew Hurt again posted a double-double scoring 20 points and grabbing 11 boards.
In the end it was not enough. Duke will have a week off before taking the floor again when they travel to Pittsburgh to play Jeff Capel and the Panthers on Jan. 19.